Type: Retail
Total Round Size (min): AUD$300,040
Total Round Size (max): AUD$1,000,220
Price per share: AUD$0.65
Urban Plant Growers
Empowering everyday people to grow their own food, using innovative hydroponic smart garden technology.
Fees Paid by Issuer

: 6%

Cooling-Off Rights

: 5 days

Minimum Parcel Size

: $260
Investor Rewards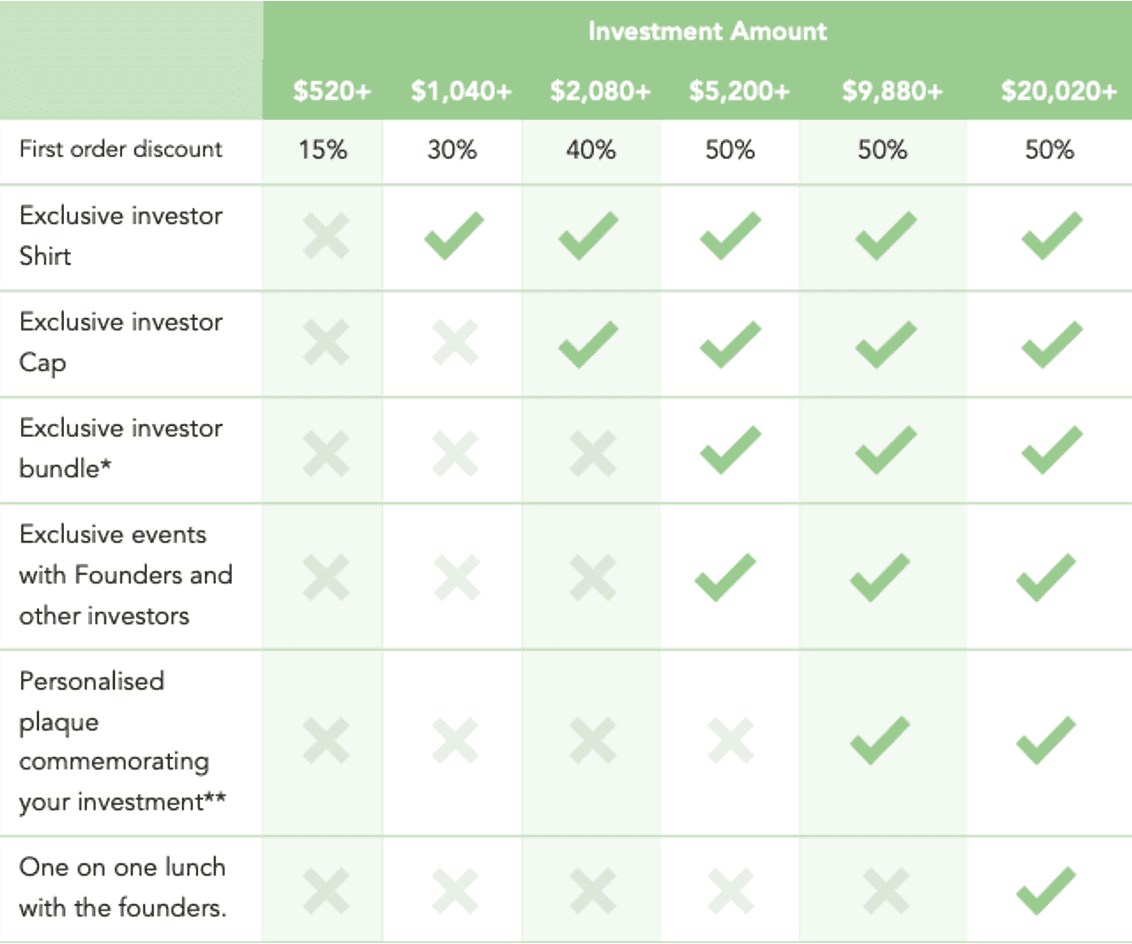 * Custom laser engraved propagation stand and tubes, water bottle and thermos, UPG custom investor jacket.
** Plaque will feature your name, show our current share price, and will be signed by the founders.
For further detail please see section 3.3 of the Offer Document
What is Urban Plant Growers?
Founders Peter and Dilhan launched Urban Plant Growers in 2018 to solve the problem of food miles, food waste and food security. Since then, the company has rapidly grown from their garages in Sydney, to a global company operating in Australia, New Zealand and the UK.
In 2021, both founders left their engineering jobs at Microsoft and DeltaQ to focus full-time on their mission of creating a greener tomorrow. Since then the company has grown exponentially with $1.4m of revenue in FY22 and over 50,000 orders delivered to 30,000 customers. 
With innovation core to the fabric of the company, the product range has continued to grow. What started as a single "smart garden" offering, has now extended to a range of unique products - bringing the love of gardening indoors and helping customers to easily grow produce in a sustainable and affordable way.
The Problem
Agriculture accounts for 70% of Australia's water consumption, food transport contributes 6% of greenhouse gas emissions and over 30% of food is wasted before it even reaches our homes. This is exacerbated by the fact that the world needs to grow 60% more food by 2050 to match population growth, a reality that will prove increasingly difficult as climate change continues to wreak havoc on food systems, worsening our food security.
Urban density is also increasing rapidly, with ⅔ of the world's population expected to live in urban areas by 2050. More than 1.3m  Australian's now live in apartments with this figure growing each year. A large portion of these apartment dwellers want to take food security into their own hands and grow their own food at the point of consumption.
This has coincided with the acceleration in the demand for indoor gardening solutions following on from COVID. Today, 70% of Millennials are "plant parents", while 67% of adults have expressed a desire to grow edible plants.
For further detail see Section 2.3.2 of the Offer Document.
The Solution
The Urban Plant Growers solution is underpinned by the baseline technology of hydroponics. For plants to grow they need sunlight, nutrients (traditionally from soil or fertilisers), water, and a medium to grow in. Urban Plant Growers use hydroponic technology to mimic these conditions, and then bundle the products with smart features such as automatic timers, water level indicators and nutrient meters to make the products easy to use.
This baseline technology can be used to build products that grow any plant. So far Urban Plant Growers have targeted herbs, leafy greens, indoor plants, microgreens and sprouts. They plan to continue to use this technology to create a broader range of products that meet the needs of more people - allowing everyday people to grow fruit and vegetables such as tomatoes, chillies, capsicums, zucchinis and more. 
They envision a future where every home can conveniently grow their own food at the press of a button, and maintain their own indoor garden with stylish home-integrated products.
For further detail see Section 2.3.3 of the Offer Document.
Investment Highlights
Strong Traction and Unit Economics

Having sold over 50,000 products to over 20,000 customers to date, Urban Plant Growers have demonstrated product-market fit. Underpinned by strong unit economics, including an LTV/CAC ratio of over 6x, revenues have grown 103% YoY to over $1.37m in FY22. Through scale, they've managed to increase profit margins on main products from 65% to 70%, with margins on long tail subscription products increasing from ~65% to closer to 80%.

New Product Development

Urban Plant Growers have a huge roadmap of innovative new products including modular furniture with built-in electronics to enable indoor gardening that fits the style of anyone's home, organic closed loop Aquaponic kits that utilise fish waste to grow plants, and indoor grow kits for bigger plants like tomatoes and chillies - allowing everyone to grow their favourite veggies in indoor spaces. 

Diversified Distribution Channels and Subscription Revenue Model

In addition to their strong online platform (which accounts for 62% of sales), Urban Plant Growers has formed partnerships with more than 20 wholesale distributors, including Flower Power, David Jones, Costco, Harvey Norman and Eden Gardens. In FY 2022, 38% of revenues came from wholesale channels.

In January 2022, the team started focusing on additional subscription revenue streams allowing customers from both wholesale and D2C channels to purchase all their plant growth consumables on an automatic subscription. This is a highly profitable source of revenue with gross margin sitting at ~77%.

International Expansion Already Underway

Urban Plant Growers has set up strong foundations in Australia, and has international expansion underway. In September 2021 a UK store was launched with encouraging results - selling out completely by March 2022, and making £66,465 in FY22. New Zealand was not far behind, with an online store launching in February 2022. The NZ store is currently making NZD~$12,000 in monthly revenue. The company believes that neither of these new markets have clear market leaders in the indoor hydroponics space, providing an opportunity for Urban Plant Growers to establish themselves as the leading name in consumer indoor gardens.

Unique Approach in a Significant Addressable Market

Urban Plant Growers has a unique indoor gardening model. While AgTech companies in overseas markets have been largely focused on kitchen herbs, Urban Plant Growers' technology aims to meet an increasing demand to grow both food and house plants. With an established and differentiated approach, there is an opportunity to make a meaningful dent in the $109b global gardening and $50b global fresh herbs markets. The global eCommerce industry is expected to grow, with eCommerce sales making up 17.8% of total retail sales in 2019, forecast to reach 24.5% by 2025.

New Revenue Streams

Having already tested their B2B vertical farming servicing in premium tech offices, such as  the Uber head office in Sydney, the company has a proven business model which is ready to expand into a range of other offices. With the aim of doubling down on servicing sales, the team has a target of servicing 100 clients by the end of 2023. With high margins and good scalability, this is an extremely profitable revenue stream for the business, which can simultaneously create increased company exposure - feeding their ecommerce top of funnel.

Opportunity to Combine Impact with Return

Fresh food grown at the point of consumption immediately cuts out the chance of plants going to waste, or being transported around the country, while growing them in an efficient and low maintenance manner. Furthermore, the widespread application of our products from use in urban apartments, to food scarce mining towns, and even farms with volatile weather conditions, proves that this technology can provide enduring benefits to a wide range of people. As product development continues, Urban Plant Growers hope to continue to develop a world where everyone can have access to their own indoor garden, allowing people to reduce their environmental footprint, save money and eat better. 
Core Business Model
Over the last four years, Urban Plant Growers has diversified its revenue channels. There are now three main revenue channels, which complement each other to enhance overall profit margins and growth. These are direct to consumer (D2C), wholesale B2B, and servicing.
Urban Plant Growers design and market a range of indoor gardening products through both wholesale and direct-to-consumer channels. Typically in a customer's first order, they will purchase one of the main products, and then return months later for high margin consumables such as seeds, nutrients or growth mediums. 35% of customers who have bought a product more than 12 months ago have returned to make another order - indicating the feasibility of this model.
As Urban Plant Growers develop larger products which can grow more food such as tomatoes, zucchinis, chillies and eggplant - the need for these consumables will grow, driving further repeat customer revenue.
For further detail please see Section 2.5 of the Offer Document
Growth Strategy
The Urban Plant Growers growth strategy is focused around new product development, new markets, and increased marketing/sales capacity within their team.
Outlined below is a small snapshot of these growth streams, for further detail please see Section 2.6 of the Offer Document.
New Product Development
As both co-founders are engineers, innovation and development is in the company's blood. 
Urban Plant Growers has a thorough product roadmap planned out for the next 3 years. The roadmap is based on customer feedback from over 20k+ customers, which has given the company unique insights into market trends. Key products include:
Grow shelf- customisable furniture with built in, modular grow light technology
Vegetable kits- first to market grow kits for growing larger vegetables such as tomatoes, zucchinis, eggplants and cucumbers indoors
SaaS and IoT- In the long term, Urban Plant Growers plans to develop a SaaS product to educate the end user and help monitor and control a range of products in one app leveraging IoT
International Expansion
As the market leader in Australia, the company has already commenced entry into New Zealand and the UK. These two markets provide significant growth potential for the company, and will set the foundation for further expansion into the EU and North America from 2024 onwards.
New Hires
Urban Plant Growers are looking to hire staff into the following positions to accelerate growth:
Industrial Designer- focused on new product development and design
Sales Representatives- acquiring customers across both wholesale customers and servicing customers
Customer Success Managers- dedicated staff to manage the growing database of over 20,000 customers across Australia, New Zealand and the UK
What Makes Urban Plant Growers Unique?
Australian Market Key Differentiators
In the Australian and New Zealand markets, Urban Plant Growers has a strong head start, as the established brand. With wholesale partnerships in Costco, Flower Power, David Jones, Harvey Norman, and Eden gardens - there is a lead in distribution that should help maintain Urban Plant Growers as the clear market leader by the time hydroponic technology goes mainstream. With over 50,000 products in people's homes, 20,000 customers, and 20 key products, the company has a strong lead over local competition.
A unique barrier to entry in the AU/NZ markets are their strict biosecurity laws which prevent the import of seeds and nutrients. Most customers (including wholesale clients) want complete kits that are ready to go when the customers receive them, which means a competitor would need to set up a local warehouse to pack in seeds and nutrients to every grow kit before selling the products on. 
There is no significant Australian competition, Mr Fothergills are primarily a seed company and don't have a background in product development, and Urbatonica was founded in 2014 in WA, and has one product and a small eCommerce presence.
International Market Key Differentiators
The main two competitors in the global market are 'click and grow' and 'aerogarden', which are both only targeting the hydroponic herb and leafy green market. None of these overseas competitors are focused on the market opportunity available in furniture integrated hydroponics, vegetable growers, or aquaponic kits.
The products sold by both of these competitors follow a nespresso model, whereby customers buy a premium product which can only be used with compatible consumables. For example, as a nespresso machine may only use a certain type of pod, most smart garden competitors will force users to use their proprietary plant pods. Urban Plant Growers believe this is an unnecessary gimmick, which does not provide additional value to the consumer. By locking in the consumer and charging extra for consumables, the customer's value for money is not considered. The additional cost for these pods are often greater than the cost of buying that plant from the supermarket. 
By comparison, Urban Plant growers follow a "technology neutral" approach, whereby customers can use seeds, growing mediums, or nutrients from any company - but are incentivised to buy from Urban Plant Growers by their rewards programs, good value for money, quick service, and fast postage.
Overseas markets have more relaxed biosecurity laws, which make it easier for Urban Plant Growers to expand their operations outwards.
For further detail please see section 2.8 of the Offer Document.
Why Equity Crowdfunding?
Equity Crowdfunding allows everyone who shares Urban Plant Growers' passion for sustainability, food security and the environment to get on board, and help build a range of exciting new products. Urban Plant Growers' aims to raise funds to accelerate growth while also making a positive impact on the planet.
Don't miss the chance to be a part of Urban Plant Growers journey to feed the world and make a greener tomorrow!
Key Team Members
Dilhan is a Mechanical Engineering and Business (finance) graduate with a background in engineering consulting, and a strong passion for the environment. As an engineering consultant he has worked on a range of projects in the renewables and energy efficiency space including geothermal power plants in Indonesia, energy efficiency audits of defence manufacturing facilities in Australia, and the construction of the Crown Casino Sydney as the independent commissioning agent. His consulting background gives him a strong foundation in communication, project management, analytics and reporting. Dilhan's pragmatic approach to business, strong work ethic and forward planning skills have been invaluable in the businesses growth.
Peter is a first class honours Electrical Engineering graduate, with a diploma in engineering practice and passion for technology. Over the years Peter has had experience in a wide range of sectors including electronics manufacturing, mechanical engineering, electronics design, systems engineering, Azure cloud architecture design and technical pre-sales at Microsoft. During Peter's electrical engineering experience he had the opportunity to assist  with electronic design for submarines and systems engineering of complex defense systems. After moving on to cloud architecture and technical presales at Microsoft, Peter helped manage some of the biggest platform as a service (PaaS) projects in NSW including Coca Cola and The Star integration platforms. Peter's diverse background in engineering and technology leaves him with a unique position to push the boundaries for a greener tomorrow. 
Financial Information
For further detail please see Section 2.12 of the Offer Document.
Use of Funds
For further detail please see Section 3.2 of the Offer Document.
Key Risks
For further detail see Section 2.13 of the Offer Document.