Round Max: AUD$2,000,000
Offer Live
Trabr
This offer is exclusively open to wholesale, sophisticated and accredited investors.
All investments will be held through the Equitise Nominee. The Equitise Nominee is a Bare Trust structure that holds securities on behalf of the investor. The Nominee is in place to handle administrative responsibilities on behalf of the company and to limit total shareholder numbers. Investors are entitled to the same rights as they would directly on the share register. More information can be found in the Investment Agreement, accessible at the final stage of investing.
In this Seed round, Trabr has already secured pre-commitments of $1,650,000.
Trabr has previously raised $2,020,000 in a pre-product angel round in 2019/20.
Security Type

: Equity

Minimum Investment

: $5,000

Post-Money Valuation

: $20,000,000
Company Overview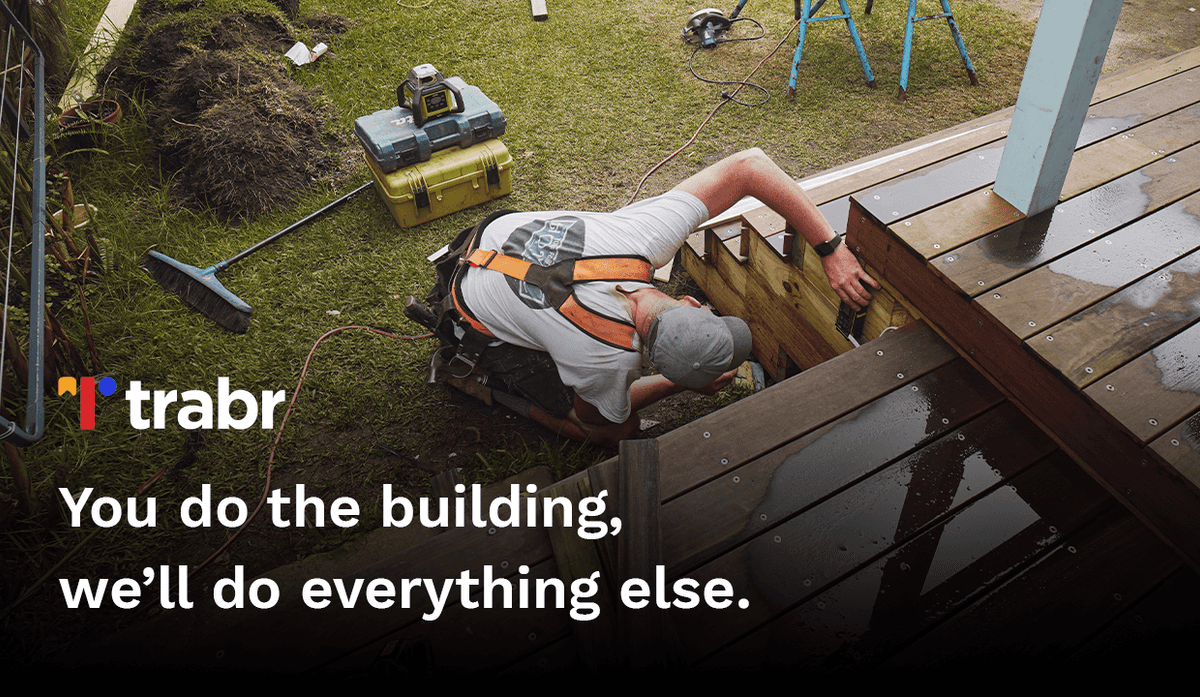 Although many other industries have recognised the value of collaboration tools, a huge gap still exists in the building sector.
While most of the world's build tech is enterprise based, the vast majority of the world's builders operate as SME's or sole traders. Starting with renovation project management and procurement tools, Trabr is creating an integrated ecosystem of mobile-first and cloud-based apps catering to SME builders, trades, consumers and stakeholders.
Trabr have successfully released the first two platform workflow tools, with their remaining technology set for release in Q2/Q3 2021. They're already enjoying tremendous uptake with SME builders, owner builders and renovators.
Use of Funds:
Funds from this round provide Trabr with a 15-month runway and will be used to grow the team and advance product development as the business accelerates its market entry initiatives in Australia, New Zealand and other developed markets.
Investment Highlights
Disrupting Build Tech

Trabr is poised to capture a significant share of the market for building and home renovation, by providing a product tailored toward a large and commercially significant demographic which have been priced out by existing products.

First-mover in a Large and Growing Market

360,000+ SME builders are currently responsible for managing $150 billion worth of building projects annually, with significant scope for disruption of the construction industry.

Recognised as an Emerging Leader

Strong Early Traction

Since release of the Builder's MVP in November 2020, Trabr has grown rapidly to exceed forecasts with over 1,800 users.

Highly Scalable Business Model

Trabr's SaaS project management and marketplace model allow for rapid scaling and value creation across a range of building and renovation touch-points.

Experienced Team

Trabr is led by a team of industry veterans with deep experience across residential real estate, marketing and technology start-ups.
Trabr's Current Features
Collaborate
Collaborate with your team, your client and all project partners anytime, anywhere.
Coordinate
Coordinate tasks, timelines and resources to maximise productivity
Control
Control and manage your project and its finances easily, remotely
Market Opportunity
Global Opportunity
The construction ecosystem represents 13% of global GDP, yet the industry has seen meagre productivity growth of 1% annually for the past two decades. Mckinsey research further indicates that a value chain delivering approximately US $11 trillion of global value added and US $1.5 trillion of global profit pools are primed for overhaul, creating a US $265 billion annual profit pool for disrupters .
Australia & New Zealand
There is also significant potential for disruption within Trabr's initial markets. Each year 2 million Australians renovate a property. Most have a vision and little knowledge beyond that, yet spend $52 billion annually doing so.
Project Management
There is currently no way to remotely control a project, stay informed, learn or adhere to compliance. This friction has created an immense market opportunity, as 360,000+ SME builders have been left without a digitally enabled means to remotely manage $150+ billion worth of projects annually, whilst providing clients with visibility.
Procurement Marketplace
Further, there is no procurement solution for ordering project requisites online and having them delivered to the site. These same circumstances, challenges and opportunities that prevail in Australia and New Zealand exist in every developed market, presenting Trabr with a significant opportunity to disrupt the status quo.