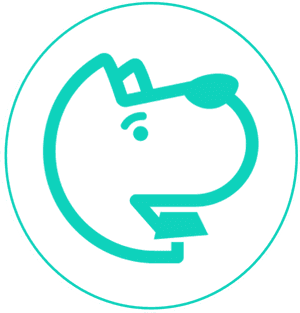 Type: Retail
Total Round Size (min): AUD$100,000
Total Round Size (max): AUD$800,000
Price per share: AUD$5
noobill
noobill is now exclusively accepting private investments.
Fees paid by issuer

: 6% of funds raised

Cooling-Off Rights

: 5 working days

Minimum Parcel Size

: $200

Deal Information

: There is a supplementary noobill presentation which should be read alongside the Offer Document.
Investor Rewards
10 years of free carbon offsets for all investors
1% cash back for life on one energy account at a single property for investors over $1,000
Special investor status in-app
What is noobill?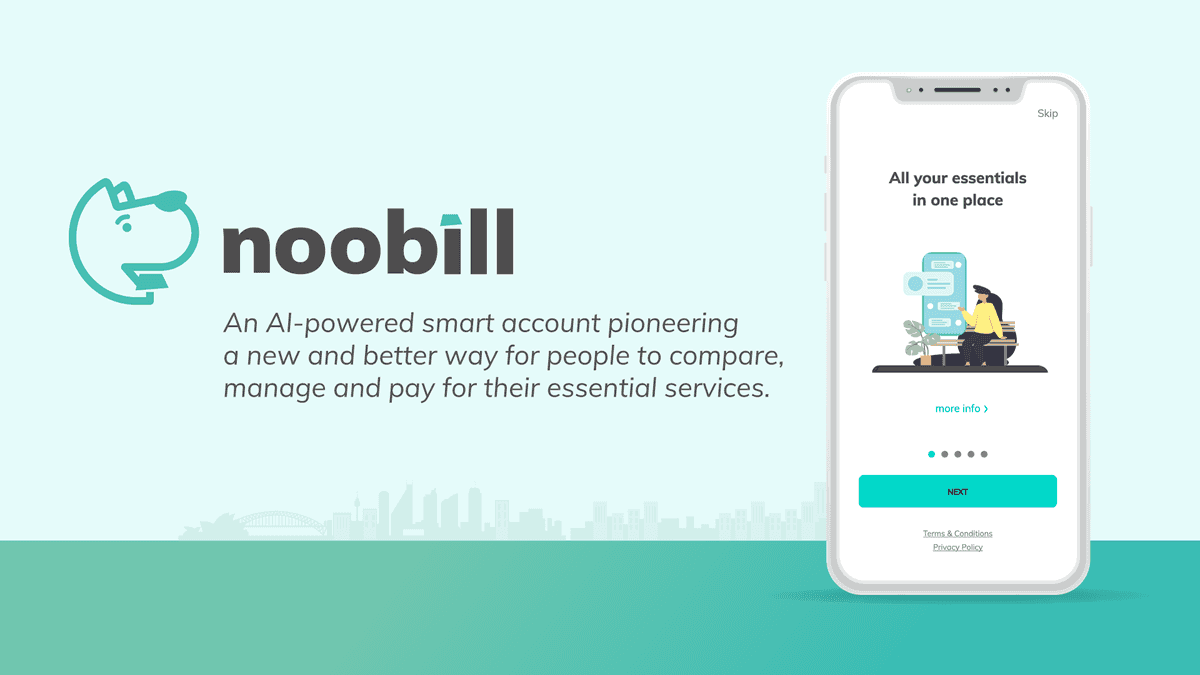 noobill is building a pioneering AI-powered smart account that allows for price-comparison, management and payment of all essential services within the one mobile app.
At conservative estimates, every year in Australia, the essential services industries charge $25 billion in additional fees and payments. That's a staggering $2,500 out-of-pocket for every Australian household.
By conducting over 400 interviews and surveys to better understand the frustrations and needs of the market, noobill discovered that young Australians do not feel in control of their financial world. Inexperience and the increasing cost of living mean the job of managing and paying for essential services is adding to the already burdensome lives of young people — noobill aims to change this.
At a minimum, noobill's smart account reduces time spent managing essential services by 10x compared to traditional management tools and empowers young people to build better financial habits, at zero out-of-pocket cost.
The app offers a seamless experience that ensures essential services are always stress-free and paid on time through user scheduled bite-sized instalments. At the same time, the AI-powered price comparison tool ensures that members always receive the best value rates available.
Free for its members, noobill will generate revenue by charging providers a transaction fee to process payments through the app. Unlike existing price-comparison tools, noobill will connect providers with highly qualified leads, without any significant up-front investment in marketing or customer acquisition costs.
As a first-mover in data integration across core essential services, noobill will not only provide an unparalleled automated personal finance experience; it will go beyond, with the goal of becoming a financial wellness tool to improve overall financial wellbeing.
Traction
noobill has already achieved strong traction over the past 18 months
Investment Highlights
First AI Powered Smart Account for Essential Services

Using powerful AI technology, noobill has created the first smart account to make price-comparison, bill management and switching providers fast and straightforward. noobill's AI also reviews individual usage consumption and history to provide customised products and provider recommendations to increase members' lifetime savings on essential services.

Business Model Aligned with Consumers and Providers

noobill's unique 'ecosystem' model aligns its business objectives with the long-term goals of consumers and providers, unlike the current 'agency' model employed by competitors that does not deliver value for consumers, prioritises high-profits but also has high marketing and acquisition costs that ultimately get passed onto the end-customer.

Consumers are a 'Sticky' User Base for Essential Services

In providing a holistic service that helps members manage life's essential services, noobill creates a 'sticky' audience by ensuring they always receive the best value and a seamless experience. Convenience and usability is further embedded over time as members integrate multiple services with noobill, cultivating loyal brand ambassadors.

Strong Early Traction with Plans for Nationwide Rollout

noobill attracted 800+ registered users during the beta testing phase with zero marketing. Now, noobill is ready to launch and scale rapidly, targeting 160k members over the next 24 months.

Backed by Prominent Technology Investors

Interest in noobill's disruptive product and significant market potential led to a successful pre-seed funding round with investment from prominent tech investors. noobill is also proud to be part of the Stone & Chalk accelerator and a member of Fintech Australia.
The Opportunity
Current Industry Landscape
Outdated Model and Archaic Systems
Industry research suggests that the largest 3–4 providers in essential services industries own 70–90% of the market, have high profits, but also high costs, inflexible legacy systems and a business model that does not deliver increasing value for consumers in line with their gradually increasing prices (continued price hikes, much higher than CPI).
The Supply Chain Myth
Essential services providers are not the product/service owners. In most essential services industries, providers do not impact the core product delivered. Their main activities are marketing and billing, rather than developing the core product or service for the benefit of consumers. Due to the competitive nature of the industry, providers need to spend big on marketing and distribution agents to compete; these costs are then passed onto consumers.
Significant Opportunity Exists to Disrupt the Status Quo
Changing the Conflicted Provider vs Consumer Model
noobill has aligned its business objectives with its member goals by charging no fee for use. Instead, approved providers are charged a small transaction fee to process payments made through the app. noobill gets paid once a person is signed up with a provider and is making use of its services.
It's a win-win for end-users and providers alike. Essential service providers no longer need to spend vast amounts on sales and marketing. noobill rewards its providers with highly qualified leads when they are the most suitable option, meaning providers will have more money to invest in better quality services for their customers.
The end of the Agency Model
Under the current Agency Model, providers spend significantly on marketing, paying agents to attract customers. To make this system work, providers heavily reduce the price of their products and services at the start of the relationship to win new customers. After a brief benefit period, providers begin passing their marketing costs onto customers, and charge more and more money over time for the same service, rewarding loyalty with more expensive bills. Plus, providers have zero motivation to change, meaning little is done to increase customer satisfaction and service quality.
The Future of Essential Services
People have come to expect digital optimisation for all of their everyday activities. Automating a plethora of product and service options and personalised suggestions are the future of personal financial technology, and noobill is the only fintech to unite these characteristics in one mobile app for essential services.
The Problem
The largest players in essential services industries (i.e. energy, telecom etc.) are often old and have antiquated legacy systems that are hard to change. Their business models and distribution channels are built to maximise profits at the expense of their customers.
Dissatisfied Market
Consumers manage an overwhelming number of essential services whose management processes are neither streamlined or digitized.
Model in Conflict with Consumers and Providers
Current business model is set up to make profits at the expense of consumers. Providers are trapped in a system that forces competition on marketing spend. Long-time customers are punished, instead of rewarded, with regular price hikes to cover marketing costs and further maximise profits. 
Financial Burdens on Young People
Stressed by increasing expenses and frustrated by a lack of digitization, young people want a support system to help them find stability and gain overall financial wellbeing.
The Solution
Product Overview
noobill acts as master account, backed by powerful AI technology, to help its members manage all their essential services in one mobile app. 
AI Technology
Think of noobill's AI as a group of mini AIs, each focused on learning different information and tasks. These mini AIs explore noobill's core data, learning, developing and getting smarter over time.
AI with senses
noobill's AI is being trained to read utility bills, service contracts and provider emails. Once this project reaches maturity, noobill will be able to provide its members with features such as bill reviews and product and price comparisons, and it will be able to translate provider emails into simple, easy to understand SMS messages.
noobill is at the early, but promising, stage of training its AI, learning through manual inputs from the development team. The AI's intelligence will increase as membership numbers rise and the process will accelerate.
AI with Analytics
noobill's AI is learning to analyse documents, transaction data and user behaviour; increasing its understanding of consumption levels, income patterns and personal preferences. Collecting and analysing this data will mean noobill can provide smart suggestions on the best-fit products for its members, and will share tailored tips to help members build better financial habits.
AI with Predictability
noobill's AI will be able to predict a member's usage, incoming bill amounts, income patterns and service needs. noobill can then use the information it collects to provide members with a clear picture of their future financial standing, automate their budget planning process and send tips to help build better financial habits.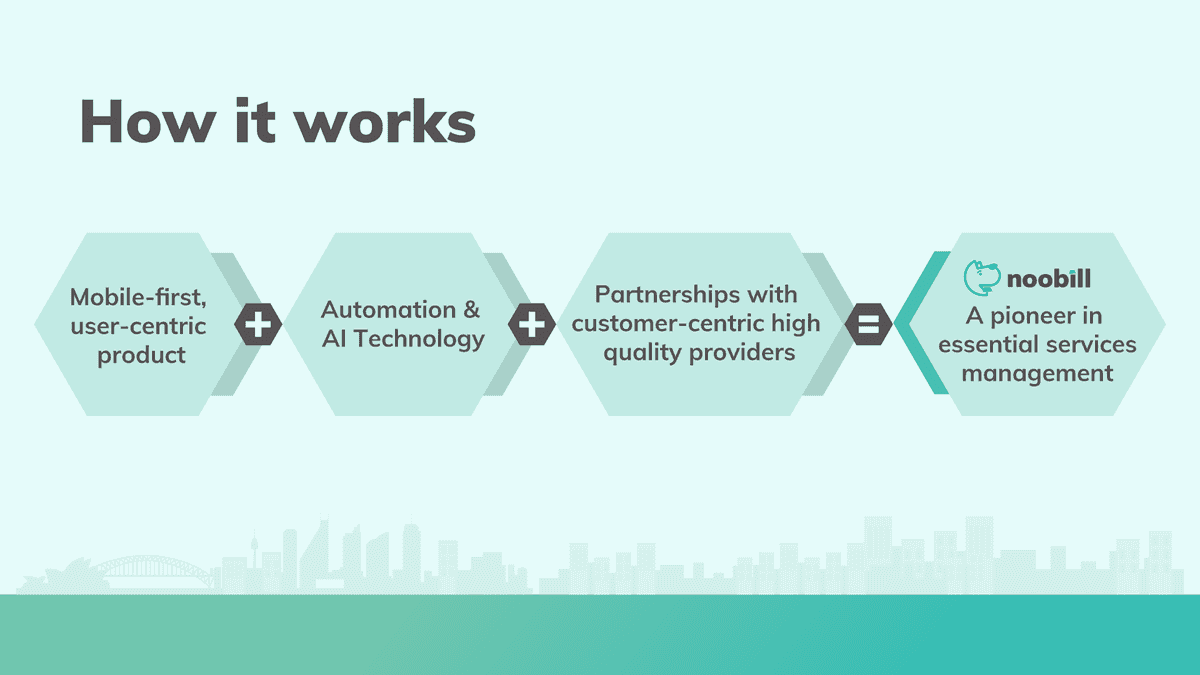 The Ecosystem Model
Ecosystem of Customer-Centric Essential Services Providers
noobill is building an ecosystem of providers by identifying prospective partners that are cost-leaders and have a customer-first approach (a.k.a. the "Ecosystem Model"). noobill awards its partner providers with highly-qualified leads when their price and service are the best match for noobill members. This creates a win-win scenario with partner providers acquiring new customers at minimal cost, meaning they can focus on cost reduction and improving the quality of their services.
Revenue Model
noobill built its Ecosystem Model on transaction revenue without commissions. Members are not charged for using the noobill app, and partner providers are rewarded with highly-qualified leads, at zero upfront marketing cost, when they provide greater quality and cost leadership. 
Sources of Revenue
Primary:
Transaction Fee: As a % of member bill payments that are deducted from payments to essential service providers.

Other:
Pay Later Account Monthly Fee: When a member withdraws money from their Pay Later account, there will be a small monthly fixed fee until the money is repaid (via scheduled instalments). 
Card Payment Processing Fee: When a member makes a payment with a method other than direct debit, there will be a 2-3% transaction fee. This fee is to encourage members to pay via direct debit but still offers them some flexibility. 
Benefits of the Model
Aligns noobill, consumer and provider interests. 
Combines product selection and payment management all in one app, free for members. 
Long term relationship with members with recurring revenue.
High retention rate, product stickiness will continue to increase over time. 
Highly scalable through rapid deployment of new services. 
High customer lifetime values.
Go-to-Market Strategy
noobill's go-to-market strategy is to continue optimising based on member data, needs and feedback to improve usefulness and to provide an unparalleled user experience. It is expected the noobill app will provide a far superior experience over methodologies currently employed for essential services management, so the product will lend itself to growth driven organically by members.
Launch: first half of 2021 - noobill will primarily focus on its organic growth channels, through word of mouth and app-store optimisation, complemented by online advertising as part of its growth partnership with Google.

Grow: second half of 2021 - Whilst further optimising the app for organic growth, noobill will drive its growth strategy through targeted content, social media and influencer marketing to engage their Millennial and Gen Z target audience.

Leads: 2022 - With the app in market, noobill will employ comprehensive digital advertising to further grow its membership base, whilst seeking out partners to whom noobill may be offered as a financial wellness tool to add value for customers and employees.
Plans for Future Growth
noobill has a robust future product development pipeline, as well as plans for international expansion given its first mover advantage.
Product development follows a three-pronged strategy:
Make it social: Implement bill splitting functionality and the ability to share payments with friends and family.
Make it complete: noobill will progressively integrate additional financial management products into the one app.
Make it smarter: Developments to the AI will allow noobill's automated functions to become even smarter – enabling more streamlined processes and creating more value for members.
The vision is to combine these features to make noobill a "super app" for personal finance and offer a broader range of tailored financial products to members. In doing so, noobill hopes to capture a larger user base and generate ever greater revenues from provider fees on essential services paid for through the app.
Once fully launched in Australia, noobill aims to grow internationally. Collectively, Australia, New Zealand, the United States and the United Kingdom share similar member demographics, industry structures and represent a combined total market of $2.5 trillion (transaction value) with no known digital solution similar to noobill yet.
Key Team Members
George Wang has broad experience as a founder and in senior management roles within multinationals, across cost management, international trade, eCommerce, cross-border payments, retail, and wholesale.
George began his career as a Graduate Accountant, very quickly making his way up to become the Senior Cost Analyst at GM Holden, managing costs for over 50,000 parts. Later in his career, after identifying the growing demand for Australian produce in Asia, George founded a premium food and beverage manufacturing and export business to supply retail and eCommerce channels in Asia with high-quality produce direct from Australian farms.
The export business snowballed, becoming a BRW Fast 100 company in 2013 and an Australian business representative to APEC in 2014. In 2016, the export business established a JV partnership with GOME, one of the largest retailers and eCommerce players in China. George went on to become the CEO of GOME, Australia.
In 2018, frustrated with the limitations of essential services providers, George created noobill, what he envisioned to be the eCommerce platform for everyday essential services.
George has a Master's Degree in Commerce, is a registered Chartered Accountant and is a Member of the Australian Institute of Company Directors (MAICD).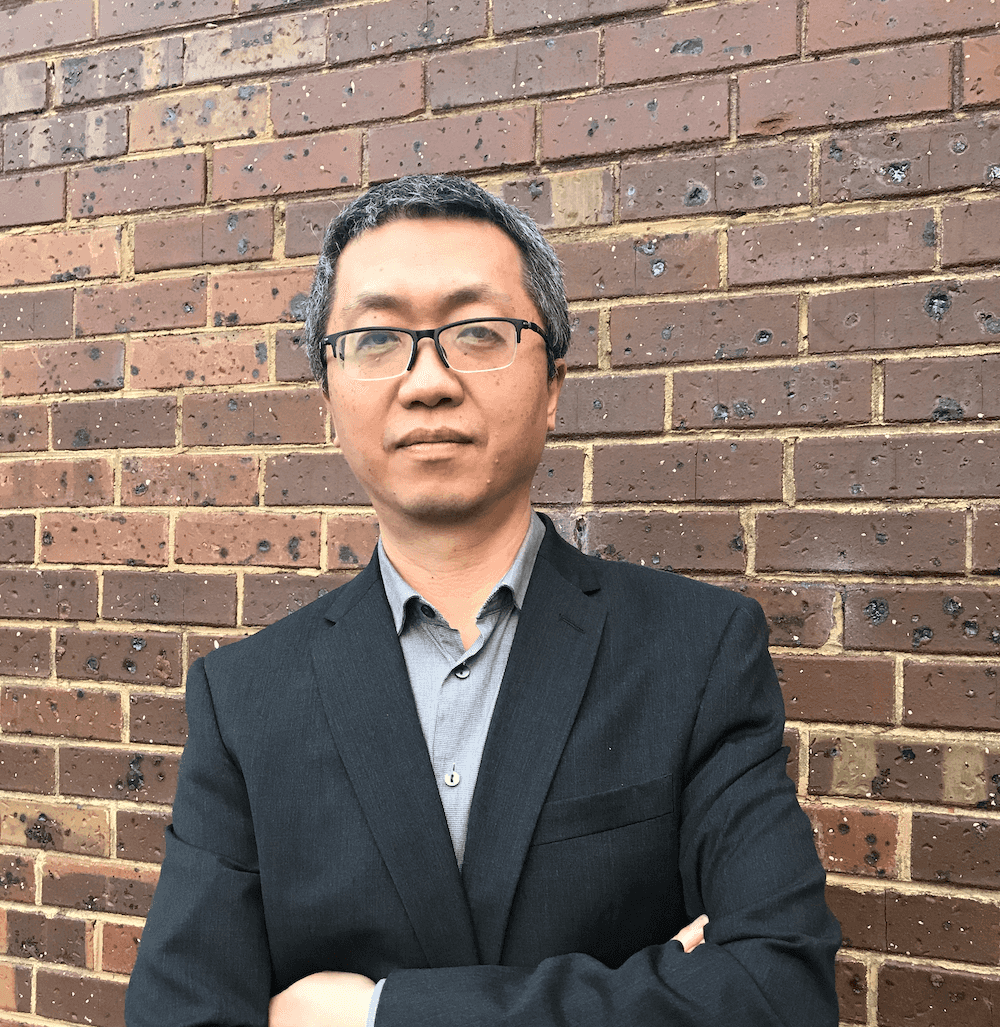 Harry Sun
Chief Technology Officer
Harry Sun has over 20 years of hands-on software engineering experience, specialising in AI, machine learning and complex databases.
Before joining noobill, Harry designed and built large scale enterprise systems for multinationals like Oracle and ANZ and managed several development teams. Harry has also held other lead engineering roles at various technology startups. Harry is passionate about discovering and delivering innovative technology products to optimise businesses and user processes.
Harry completed a Computational Mathematics and Applied Software Degree in 1997 at Nanjing University, has completed Machine Learning at Stanford University and Neural Networks for Machine Learning at the University of Toronto.
Key Risks Facing the Business
Why Equity Crowdfunding?
Bills are something that everyday Australians have had a negative experience with. With over $25 billion per year wasted on essential services and Millennials finding it harder to build wealth and credit – noobill wants to revolutionise this process and invites all bill-paying Australians to share in its journey.
Funds from this raise will be used to expand the range of essentials offered through the noobill app and expand our reach Australia-wide. As we launch this new and exciting phase, we want to give our existing members and the wider community a chance to own part of our success as we look to accelerate product development, marketing and expansion. As a platform that was built around improving the lives of its members, noobill wants to allow everyday individuals to share in its potential growth and success.