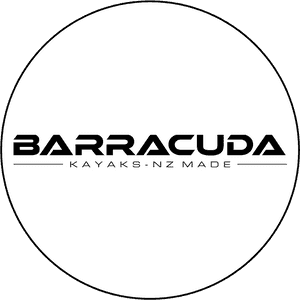 Type: Retail and Wholesale
Total Round Size (min): NZ$100,000
Total Round Size (max): NZ$1,000,000
Price per share: NZD$1
Barracuda Kayaks
Barracuda Kayaks is now accepting investments!
Minimum Parcel Size

: $500
Barracuda Kayaks Overview
Barracuda Kayaks is a premium manufacturer of sea kayaks based in Auckland, New Zealand. The company is known for producing high quality, professional-grade products at more accessible prices owing to its innovative production processes and commitment to quality. Every kayak ever made has sold, with Barracuda currently unable to keep up with the worldwide demand of its products driven by the strength of its brand.
Barracuda operates largely in a B2B capacity, selling kayaks directly to distributors and resellers in New Zealand, Australia and further abroad. The company is limited by its production capacity, with intentions to move and upgrade its manufacturing facilities to Marsden Cove in order to scale the business and service a wider market. Barracuda is also developing a range of innovative and novel products for the kayak market, including e-kayaks, providing a much needed alternative to tour operators and casual participants. 
Investment Highlights
Significant Excess Demand

Barracuda Kayaks has never made a kayak that hasn't sold. The company is limited by its current production capacity, with an ever-growing list of customers interested in purchasing a product. Significant untapped potential exists beyond the company's currently limited distribution in New Zealand and Australia. Barracuda Kayaks is already profitable and generated over $500K in revenue over the last financial year.

Superior Technology, Strong Brand Equity

Barracuda's products are widely regarded as the highest quality boats in their price range, and also outperform most kayaks in higher price ranges. The production method means that Barracuda kayaks are the lightest plastic kayaks per foot in the world for their quality level. This is reflected in their usage across a variety of high performance competitions and events, such as the Kathmandu Coast to Coast, GodZONE and NZ Red Bull Defiance events. 

Notable Customer Base

The company's strong reputation has translated into a passionate and notable customer base. These individuals include Olympians, New Zealand sportspeople and key industry figures. Barracuda has established itself as a leader through its reputation for quality products.

Growing Market with Tailwinds

With pandemic-driven tailwinds, domestic touring and adventuring are facing an increase in popularity as people look for holidays closer to home. Both tourism operators and solo enthusiasts will help to drive an increase in demand for high quality but affordable kayaks. Nearly all NZ grade two river courses and instructors already use Barracuda.

Innovative Research & Development into New Product Lines

The company is currently developing proprietary technology for a range of new and innovative products not yet seen before in the kayak industry. Notably, Barracuda is developing an e-kayak, with an onboard motor akin to an e-bike, making touring and kayaking more accessible to the masses. This means that regardless of conditions or skills, kayaking groups and enthusiasts will be able to tour with ease.

Exciting Global Growth Potential

Barracuda receives consistent demand from overseas that it is unable to service. With some export activity already to Australia, significant untapped potential exists in countries such as the USA and Canada. With the upgrade and transition of its manufacturing facilities, the company
will be well-positioned to tap into these larger markets and utilise its strong brand. Barracuda is already establishing a JV structure with Think, a large Canadian kayak manufacturer with distribution across 20+ countries.
What Makes a Barracuda Kayak Special?
Barracuda Kayaks are currently manufactured in Silverdale, Auckland using a thermo-plastic vacuum forming process that the company pioneered. This has allowed Barracuda to establish itself as the best in class solution, producing both the lightest and strongest kayaks in its price range. 
Barracuda kayaks retail for $3,000 - $4,000 on average. Carbon fibre kayaks, regarded as the highest tier of kayak material, retail for in excess of $5,000 for comparable quality, and are generally less durable and more prone to damage. Fibreglass kayaks are both heavier and exhibit inferior performance to Barracuda products, costing more on average for a lower quality level. 
The care and attention to detail taken in the manufacturing process, alongside innovative techniques and constant improvement, have firmly established the strong brand equity of Barracuda Kayaks in the industry. The quality of the company's kayaks is evident in their usage across a range of national adventure sports competitions such as 100% Pure Racing, GodZONE and the Coast to Coast World Multisport Championships.
Growth Plans
Barracuda Kayaks has a range of growth initiatives in its pipeline following this capital raise. The company has grown steadily from internal cash flows for several years, and is ready to raise capital to scale and expand into additional product lines through innovation.
Production Facility
Barracuda is currently limited by its production capacity, despite significant demand from New Zealand and overseas. At its facility north of Auckland, the company can produce up to 250 kayaks a year, of which it sells every single unit. With the proceeds of this raise, Barracuda intends to move its production to Marsden Cove in Northland and substantially increase its capacity. This would allow the company's capacity to expand to over 3,000 units over the next five years, allowing it to service the excess demand for its products and diversify into additional product lines. The facility upgrade would also help to decrease costs and increase efficiency and profitability.
Global Distribution
Owing to its strong brand reputation, Barracuda enjoys high demand from all over the world, despite only having a limited export presence in Australia. Enabled by its facility upgrade, the company will be able to increase its export activity to key markets such as Australia, the USA and Canada. Notably, Barracuda is in discussions with a global boat maker to establish a JV structure to manufacture and distribute multisport kayaks across multiple countries.
Innovative Product Lines
Barracuda is currently developing a range of innovative and unique technologies to underpin its future product expansions. These primarily include its proprietary e-kayak technology, and a multisport kayak through the JV with a global race boat manufacturer, driven by customer demand for a dedicated racing product. With the proceeds of this raise and its new facility, the company will be well-positioned to commercialise and begin manufacturing these new boats in order to reach a wider market and drive company growth.
Why Equity Crowdfunding?
Barracuda Kayaks has chosen to raise capital through equity crowdfunding to ensure that it continues to involve its strong community of customers and advocates. Barracuda wants to allow its customers to invest in the business, fostering increased engagement from its stakeholders and helping to drive the company's future direction. By raising through equity crowdfunding, the company will be able to continue to focus on building the best boats possible, and ensuring its customers are aligned with its vision.
Key Team Members
Having identified the potential of Barracuda Kayaks, Dave became a shareholder in 2015 and took on the role of Managing Director to lead the day to day strategy and growth of the Company. Dave leads the Company's expansion program, into new markets, new products and manages the underlying profitability and finances. He is a Mechanical Engineering and Commerce graduate and had an early career as consultant with PWC. Dave owns and operates several other successful businesses in NZ and Australia, with key experience in establishing and running successful startups in the manufacturing and high tech industrial space. He is a specialist in lean manufacturing processes and applies this expertise to Barracuda in its growth and expansion.
Gordon has successfully run Barracuda Kayaks since 1991 and is a 50% shareholder in the business. Gordon is a boat designer and builder by choice for over 43 years and a keen kayaker, and leads the Company's design and manufacturing processes. Gordon is seen as an industry leader with deep connections within the kayaking and boating markets of New Zealand. He pioneered the unique vacuum forming process that has underpinned the competitive advantages of Barracuda's kayak range for decades.
Key Risks Facing the Business
Rights Attached to Shares
Barracuda Kayaks Limited is offering ordinary voting shares (Ordinary Shares) ranking equally with all other shares on issue.
Holders of Ordinary Shares have:
The right to receive notice of, and attend, every meeting of the shareholders
The right to vote at a meeting of the shareholders on any resolution
The right to an equal share in dividends authorised by the board
Certain shareholder information rights
Pre-emptive, or anti‑dilution, rights on certain share issues, as set out in the Constitution.
The Constitution set out other terms that will apply to a shareholding in Barracuda Kayaks. You should read this document before subscribing for Ordinary Shares under the Offer.
Information on How Shares Can Be Sold
At this point there will be no formal market to buy and sell shares but the constitution contains further information on share sale and transfer.