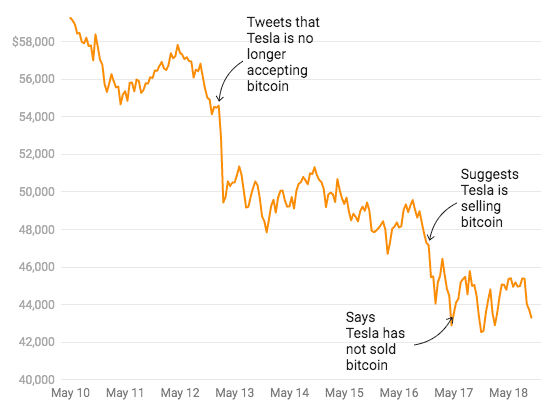 Source: Vox
It's this kind of unpredictability that makes finding which crypto to invest in such a herculean task. Bitcoin currently 'leads' the market but a recent report from Goldman Sachs outlines that Ethereum is set to overtake as the king of crypto. This comes off the back of the soaring popularity of decentralized finance, with cryptos such as Ethereum becoming increasingly more utilised to replace traditional banking processes due to the efficiency and security of blockchain technology. Furthermore, the increasing popularity of NFTs (non-fungible tokens), which are largely issued on Ethereum's blockchain, has added another reason as to why Ethereum is taking over. 
Qubix's Solution
The immense volatility of this market alongside the emergence of new cryptos every month can make crypto an incredibly daunting prospect for the regular investor. However, the rapid growth of this industry means that more and more people want to get involved but just lack the resources to make well-informed decisions. In fact, 44% of Aussies would use crypto if it was simple, and this stat will only grow as crypto becomes more mainstream.
Qubix is a fintech startup that has addressed these pain points. At its core, the application is designed to be easier, more accessible, faster and more relevant for cryptocurrency investing. The app adopts easy to understand language, a streamlined onboarding process and a simple investment strategy for users. Users can select pre-set mixes for diversification from just $9 per month and, unlike its competitors, Qubix offers eleven different cryptocurrencies to choose from including Bitcoin and Ethereum. 
Qubix vs Timing the Market
History has proven time and again that trying to time the market just isn't sustainable with only about 4.5% of day traders being successful. The preset mixes mean that Qubix has taken all the guesswork out of trying to find the "best crypto" and instead empowers users to build long-term sustainable investing strategies as the tried and true approach to build wealth. This concept is demonstrated below. 
Note: The Balanced Portfolio using Qubix is a portfolio of the 11 cryptocurrencies offered on the Qubix app weighted equally. These cryptos include BTC, ETH, XRP, LTC, BCH, LINK, ADA, MKR, XTZ, DOT & EOS.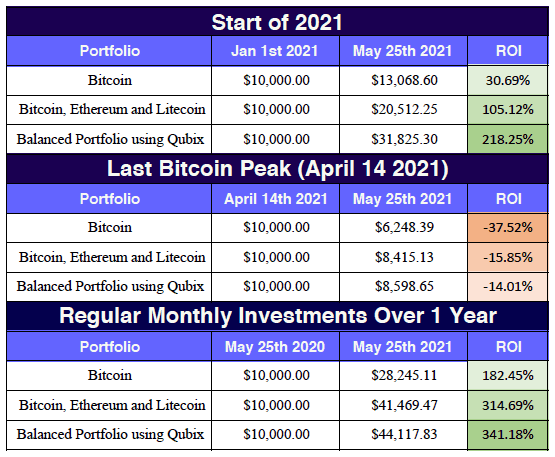 Investing in Qubix 
Qubix as an investment gives people the opportunity to get in on the cryptocurrency market through a technology company without direct exposure to the actual cryptocurrencies which are often confusing and prone to fluctuations. This is one of the major reasons we engaged with the startup. 
The offer has already reached over $350k (breezing past its minimum funding target of $150k) from over 170 investors. Invest in Qubix's journey today from as little as $250 before it closes successfully.