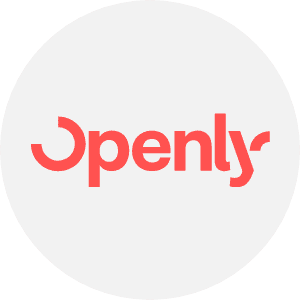 The Pioneers of People Powered Privacy.
Making Privacy Simple.
Closes:

19d, 6h, 55m and 13s
Openly
Register your interest for this equity crowdfunding offer to be the first to know when it goes live!
What is Openly
Openly is an all-in-one privacy platform that is improving the standard of privacy in Australia.
For consumers, Openly delivers a range of free tools that assist with the self-management of privacy. Openly fills a market gap between the Government regulators and the privacy advocacy bodies by offering easy to understand advice, a friendly user interface and innovative technology solutions for real privacy problems.
For businesses, Openly operates Australia's first independent privacy certification program. Openly Privacy Certification offers businesses the opportunity to demonstrate their enhanced privacy capabilities while building trust with their customers and reducing their risk of regulatory compliance issues. This creates a sticky and recurring B2B revenue model for Openly, with annual fees that scale with business size.
Investment Highlights
An Industry Awaiting Disruption

Privacy in Australia is broken. While other markets around the world have introduced new privacy regulations that offer strong consumer protections, Australia has only just commissioned a review of the 1988 Privacy Act. Further, there is limited competition and low levels of new technology development related to privacy. The consumer market is stirring, and consumer expectations on privacy have changed significantly over the past 24 months.

Launched, Loaded and Ready

Openly has launched both the consumer and business products to market following an extensive beta testing program with several large enterprises. With its first two business contracts secured and initial revenue generation, and more than 2,200 consumers using Openly's tools, this is a business ready for growth.

Led By Automation

Openly has invested significant capital into artificial intelligence and machine learning to automate the privacy certification application process. This innovation follows core banking loan assessment models and creates a low-touch system that is capable of managing a high volume of applications.

Consumer First

By putting the consumer first, Openly is building trust in its certification program. The artificial intelligence that powers the application process is also being used for market-leading consumer tools that solve real world privacy problems. Additionally, Openly offers consumers easy to understand privacy advice and support without the legalese.

Rules as Law

Openly has developed a voluntary but legally binding Privacy Code. Once registered by the Office of the Australian Information Commissioner (OAIC), a Privacy Code becomes a legislative instrument under the Australian Privacy Act. There are only three other Privacy Codes in existence, none of these are economy-wide or privately run. Openly will submit its application for registration shortly.

Experienced Advisory Board

Openly is in the process of selecting an experienced Advisory Board that will assist with the general operation of the business, and the monitoring of the certification program to ensure it maintains integrity and trust. From top-tier business leaders to experts in privacy, applicants to the Openly Advisory Board demonstrate a commitment to long-term success.

Amazon Web Services Collaboration

Openly is a part of the AWS partner network, and the AWS activate program which offers additional support and funding opportunities through Amazon. Openly has received financial support from Amazon in the form of account credits which have assisted with technology development at no cost. Openly is also the only privacy certification program in the world selling B2B on Amazon Marketplace.
The Problem
Online trust in Australia is low, and it is getting lower. With the introduction of the GDPR, the CCPA and other global privacy regulatory changes, Australian community attitudes to privacy are changing, and the message is clear.
88% have chosen not to deal with an organisation due to privacy concerns.
87% want more control and choice when it comes to privacy.
74% agree privacy certification would make a business more trustworthy.
62% aged 18-34 are not aware of the Privacy Commissioner.
43% aged 18-34 have never heard of the Privacy Act.
Australian businesses are under pressure too. Privacy is a fast changing landscape, and privacy issues are causing businesses significant financial concern. In 2020 there was 1,051 data breaches reported to the OAIC at an average cost of $3.35m per data breach. That's more than $3.52b spent on containment, remediation, legal and technical responses to data breach events in Australia in just one year!
The Openly Solution
Privacy is a complex problem, and Openly has identified four key areas of focus that solve the core concerns for both businesses and consumers.
Consumer Support Services
Openly is kicking off a huge effort to support consumers better. By developing new tools, better privacy resources and programs that promote greater transparency, Openly is truly consumer first. 
Education Programs
Openly believes that consumer education is the key to developing its certification program. By investing in education programs that build digital literacy while improving early-stage privacy awareness, the risk of harm to consumers is greatly reduced.
Privacy Certification
Openly has developed Australia's first independent privacy certification program. With the help of artificial intelligence and machine learning, this program operates efficiently. Built on the foundations of transparency, trust and ethics, businesses are lining up to demonstrate their commitment to privacy.
Business Support
Openly understands that privacy can be a tricky area for small to medium business owners. To increase participation willingness, Openly is developing resources that will assist SMB's in better servicing their customers' privacy needs.
The Target Audience
Openly's consumer products are primarily targeted toward people aged 18-34 who are aware of the importance of privacy but have limited understanding of privacy rights, rules and responsibilities.
Openly's business products are targeted toward Australian businesses that have more than five employees and who handle personal information. Openly notes that there is scope for international privacy certification to be implemented, however this is not an immediate priority.
Growth Strategy
Openly is driving awareness of its core product offering through consumers initially, with the aim of creating a community of privacy-aware individuals who use Openly as their source of truth.
Openly is attracting business interest through corporate communications and is actively seeking out businesses who demonstrate ethics and transparency in their day-to-day operations. To drive further growth, Openly is partnering with accountants, lawyers and other professional advisors to drive further uptake of privacy certification.
Why Equity Crowdfunding?
Everything that Openly does centres around the concept of People Powered Privacy. From public consultations and open forums to live webinars and product roadmaps, Openly is driven by the needs of the consumers and businesses it serves.
Openly believes that equity crowdfunding aligns with the principles of People Powered Privacy and is seeking investors who believe in its products, its growth strategy, and the importance of privacy innovation in Australia.
Openly will use the funds raised through this offer to further develop its technological capabilities, employ additional staff to manage an increasing workload, and formally launch a consumer campaign to drive awareness of Openly's services.
Australian Corporations Regulations - Warning Statement About Equity Crowdfunding
Crowd-sourced funding is risky. Issuers using this facility include new or rapidly growing ventures. Investment in these types of ventures is speculative and carries high risks.
You may lose your entire investment, and you should be in a position to bear this risk without undue hardship. Even if the company is successful, the value of your investment and any return on the investment could be reduced if the company issues more shares.
Your investment is unlikely to be liquid. This means you are unlikely to be able to sell your shares quickly or at all if you need the money or decide that this investment is not right for you.
Even though you have remedies for misleading statements in the offer document or misconduct by the company, you may have difficulty recovering your money.
There are rules for handling your money. However, if your money is handled inappropriately or the person operating this platform on which this offer is published becomes insolvent, you may have difficulty recovering your money.
Ask questions, read all information given carefully, and seek independent financial advice before committing yourself to any investment.