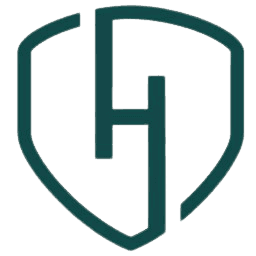 Type: Retail
Total Round Size (min): AUD$500,000
Total Round Size (max): AUD$1,500,000
Price per share: AUD$1
Hero Packaging
Save the earth one mailer at a time!
Fees Paid by Issuer

: 6%

Cooling Off Rights

: 5 working days

Minimum Parcel Size

: $250
What is Hero Packaging?
The mission is simple - to help e-commerce businesses join the fight against single-use plastic packaging. Our goal is to be a one-stop shop for all sustainable packaging solutions.
The success of this mission so far has centred on our unique ability to provide fun, bright, home-compostable shipping mailers to over 40,000 customers worldwide, which is a huge step towards completely eliminating plastic from the shipping process. 
Our HEROPACKs are made partly from plants, and the remainder from certified home-compostable ingredients, which break down in a home compost bin in 90-120 days. This is a stark contrast to the 400 years it takes for plastic shipping mailers to biodegrade. The mailers are still strong, durable and waterproof and go through quality checks during manufacturing and on receipt. 
We have also introduced a range of business accessories such as printers, labels, tape and hex wrap, which are all more sustainable than other products in the market.
How it started
We started Hero Packaging based on a need from our previous online retail business - a personalised fashion accessories brand. As the business scaled, we were eventually shipping over 80 orders a day, but soon realised that all parcels were sent in harmful plastic packaging that was damaging the planet. With young kids of our own, the thought of this was sickening. After researching alternatives to plastic shipping mailers, we came up empty handed and couldn't find the right eco-friendly solution. In the end, we did our own research and found a home-compostable material which could be used to create shipping mailers. After months of research and prototyping, we arrived at a solution that worked for us, now known as the HEROPACK™.
To test demand, we offered free product samples to Australian online retailers based on a targeted Google ad, and after receiving over 1,000 email sign-ups within weeks, we knew there was demand for the product. In 2018, we combined our deep e-commerce and brand building experience to officially launch Hero Packaging and spearhead a movement to remove plastic from packaging, first in Australia, and then globally.
How it's going
The rise in e-commerce has driven rapid growth for Hero Packaging, with revenue of $2.5m in FY21, up 200% from FY20. With annualised revenue currently at $5m, the team is focusing on building a "one-stop shop" for online retailers and have recently entered into the US and Canadian markets. To date, the team has saved over 15,000,000 plastic mailers from entering the environment and we are only just getting started! 
Investment Highlights
Massive market opportunity with industry tailwinds

Accelerated by COVID, the Australian e-commerce industry is on a rocket trajectory, having grown 57% YoY in 2021. Recent studies by McKinsey have shown that approximately 70% of consumers are worried about the environmental impact of packaging and would pay more for greener alternatives. Leading website provider, Shopify, had 1.75 million sellers on its platform in 2020, which is anticipated to be much higher in 2022. As a "mission critical" player in the e-commerce value chain, we are incredibly well placed to take advantage of these consumer and environmental trends. 

Australian governments, at both state and local levels, have various plans to implement curbside FOGO (food organic & garden organic) bins, which once rolled out, will provide a national infrastructure for the correct disposal of compostable packaging, including Hero Packaging's compostable mailers. This long-term trend gives online retailers even more justification to switch to home-compostable shipping mailers. 

Rapid growth to date, with lean operating model

In just three short years we havegrown to service over 40,000 customers of all sizes from micro retailers to large online brands in Australia such as Beginning Boutique, Cue Clothing, Veronika Maine, Zanerobe, Piping Hot, plus Boom by Cindy Joseph and Studs in the USA. Revenue increased by 3x in FY21 to $2.5m and revenue is tracking ahead of the FY22 target with an annualised run rate of $5m. With a lean operating model, the company is already profitable with EBIT margins of 24% by FY24. With such high demand for HEROPACKs, a key driver of sales growth and a great customer experience has been strong execution in the areas of forecasting and purchasing. We have are also able to ensure minimal stock disruptions in 2021 despite the long COVID lockdowns between July and October.

Multiple avenues for further growth, including US/Canadian expansion

We currently have over 600 customers in North America, over 2,000 US/Canadian email subscribers, a fully operational North American website, and a new US-based warehouse full of stock ready to sell. US & Canadian customers have thus far come from organic growth in the market (from non-paid marketing activity such as organic Google traffic and social media engagement). The real opportunity for us is to leverage our existing customer base and existing market demand, to rapidly scale the online advertising budget to increase website visitors, and based on a conversion rate estimate of 3-5%, achieve a strong foothold in the US market within the next 6 months. From learnings in the Australian market, newly acquired customers will provide recurring business to then continue growing the North American market. 

In terms of market size, the US e-commerce market is an $800bn sector growing at a compound annual growth rate (CAGR) of 14% to 2025. In the USA, where the sustainable packaging market is less mature compared to Australia, huge growth opportunities exist for Hero Packaging.

Led by experienced founders, with track record of building brands

Both Anaita and Vik are deeply experienced across e-commerce and digital marketing having built and supported the growth of numerous companies. They have built a social media following of over 60,000 and a brand that is loved by customers and end-consumers alike. Their brand building experience is a key competitive strength that they will leverage as they expand.

Strong exit opportunities

The packaging industry is long overdue for a shakeup by challenger brands. Globally, businesses such as TIPA and Packhelp have seen strong interest from private equity for their vision to drive change in the sector. Another notable mention is the sustainable custom packaging supplier, Noissue, who raised $10m in funding in late 2021. 

With multiple approaches from interested trade parties already, Hero Packaging is well positioned to continue its growth and is open to exploring a trade exit to a party that shares its values and ethos.
Product Overview
THE HEROPACK™ - FLAGSHIP PRODUCT
Fun, bright, compostable shipping mailers that customers love
We make the largest range of compostable mailers in the world, with an array of 9 colours and 7 sizes. With a wide range of colours, HEROPACK mailers can match the branding of most businesses, without those businesses needing to customise their own packaging to suit their branding.
Each mailer colour was co-created and voted on by our customers. Validating demand for new products before launching massively de-risks this process and ensures there is market demand for each new product before it is launched. It has also been key in building the Hero community and ensuring they have buy-in with the future of Hero Packaging.
The HEROPACK mailers are made partly from renewable ingredients (around 30% with PLA or Polylactide), and the remainder from PBAT (PolyButylene Adipate Terephthalate). These ingredients are Australian-certified home-compostable.
THE HEROBUBBLE™ 
In addition to our shipping mailers, we created a padded version called HEROBUBBLE, where each layer of the mailer is home-compostable. We now offer the HEROBUBBLE in 3 colours and in multiple sizes. We are the only company that offers this range in Australia. 
SUSTAINABLE ACCESSORIES 
To fulfil the vision of eradicating plastic in the e-commerce shipping process, we have successfully launched other sustainable packaging accessories such as compostable shipping labels, shipping printers that require no ink, and compostable shipping tape. These products are only the beginning, with many more products coming down the pipeline in the next 12 months.
CUSTOM BRANDED MAILERS
In addition to the in-stock range of mailers sold through the website, we also specialise in custom-branded compostable shipping mailers with customers like Cue Clothing, Veronika Maine, Birdsnest, AGL, and Beginning Boutique. Because compostable material is partly natural and has different properties to plastic, the process of customisation can be complex and hard to navigate for brands switching to compostable packaging. Having produced a huge range of custom sizes and colours since 2018, Hero Packaging helps brands navigate the world of compostable packaging to bring speed, efficiency and a great customer experience to this arm of the business. 
We are building a one-stop-shop for all online retailers' sustainable packaging needs. Whilst Hero might have the largest range of compostable mailers, they aren't done yet. Hero will continue to invest in R&D to bring the best solutions available to our customers, with the view to eventually move into new verticals.
Core Business Model
Hero Packaging sells its range of home compostable mailers and eco-friendly accessories to businesses of all sizes, from micro-retailers through to some of Australia's best known brands. We do this in 2 ways:
E-COMMERCE SALES
Our e-commerce website is our primary sales channel, where we have now surpassed 60,000 orders. Our Australian website caters to Australia, New Zealand and other countries and our USA website specifically caters to North America and Canada. 
2. CUSTOM MAILER SALES
For larger clients with custom packaging needs, we engage more directly through a dedicated Account Manager and Customer Service team to seamlessly manage their packaging requirements, from design through to delivery. 
Currently, we have over 50 large custom packaging clients that account for ~25% of our FY22 revenue. These customers include brands such as Beginning Boutique, Cue Clothing, Ripcurl, Birdsnest, Veronika Maine, Piping Hot, as well as Boom by Cindy Joseph and Studs in the USA. Since we brought on our first custom client we have managed a 96% retention rate.
Growth Strategy
Global Expansion

Currently, Hero is Australia's largest retailer of home-compostable shipping mailers, however we have our sights set on international markets. We entered North America at the end of 2021 and have gathered over 600 customers in a short period of time. With 3PL warehousing completely set up to service the region efficiently, and with the warehouse fully stocked and ready to sell, we are at the point of scaling up our operations and increasing market penetration over 2022.

We will replicate the Australian e-commerce business model that has enabled us to scale so fast, along with an increased focus on custom and enterprise clients which will drive large volumes.

Strengthen our Community and Build a Platform for Purpose

At Hero, we are supported by businesses who value our ambitious goals of protecting the environment, one mailer at a time. GreenFleet, a leading not-for-profit organisation and Australia's first carbon offset provider, provides us guidelines to help us offset our carbon emissions. By partnering with Greening Australia, we also support environment projects in Australia.

Looking forward, Hero is currently in the process of becoming a Certified B Corporation, which will ensure transparency and accountability of our social and environmental impact. We will also aim to attain Climate Active certification so we can officially call ourselves carbon neutral. To facilitate gaining these accreditations, we recently hired a Social Impact Manager, who will be looking at the Climate Active certification and B Corp certification, which will encompass offsetting our carbon emissions.

Customer Acquisition

We acquire customers primarily through online marketing channels, with a funnels approach which nurtures customers from the awareness stage through to being an active and loyal customer. We will continue to optimise our acquisition engine and will look to replicate our Australian success in the US and Canada.

Focus On Research & New Product Development

Our product range is unique in that every new product/colour range that we have ever brought to market has been voted on by our engaged Hero community. This ensures that our products have a market demand prior to launch, significantly de-risking their introduction. We plan to continue this winning formula as we scale, and complement this with research into the best technologies that the market has to offer.

We are constantly looking at new products, materials and innovations from around the globe. With a customer-base of over 40,000 eco-conscious businesses, this provides us the opportunity to bring the best eco-friendly packaging solutions to our customer base, and have an even greater impact.

We currently have 5 new products in the pipeline that are on track to launch by September 2022. We also have plans to extend into new verticals (beyond pureplay e-commerce) in 2023. This will further strengthen our market leadership and position as a platform for all sustainable packaging needs.

Building a team that shares our vision

A key focus of this raise is securing the funds to hire more staff to join us, and truly build a world-class team to jointly execute on our vision. We recently hired a Social Impact Manager, who will be looking at Climate Active certification so we can officially call ourselves carbon neutral. They will also lead our application for B Corp certification.

Importantly, our growth to date both from our SME's and Enterprise clients has all been organic, without a dedicated Business Development team. As we look to scale and acquire a greater number of large retailers, we will use the funds to hire dedicated business development staff.

We also believe that our team culture has been a key ingredient to our success. All our team members embody the values and ethos of the company. Company's with a strong culture can experience up to 4x more revenue growth than companies with weak cultures.
Why Equity Crowdfunding?
Hero Packaging was started with the idea that collective action will help reduce and eliminate plastic in the shipping process. The Hero community is now more than 40,000 strong, and have co-created Hero products, signed petitions to create change, and been a voice for sustainability in e-commerce. So when it comes to raising capital, it only makes sense for Hero to do this through collective action, and have customers be an even more integral part of the journey.
Key Team Members
Anaita is a two-time e-Commerce founder. One of her key strengths is in building brands and engaged customer communities, having built a business community of over 280,000 on social media. She is also the author of a digital marketing book called 'Sell Anything Online' and has taught digital marketing at Macquarie University for several years. With a big focus on education and helping other founders succeed, she has mentored over 50 e-Commerce businesses in the last 12 months. Anaita's experience in brand building and community engagement has been invaluable in the growth of Hero Packaging.
Vik has over 15 years experience in marketing, e-Commerce, operations & supply chain. He is the former Head of e-Commerce/Online & Supply Chain at Mills Brands (one of Australia's largest online retailers). With a core focus on supply chain management, logistics and e-commerce with the Hero Packaging business, Vik leverages his unique experience to pull together the many moving parts of the organisation.
Lauren is a Chartered Accountant with 20 years experience working with a wide range of businesses - from startups through to top 100 ASX listed entities. Throughout her career she has worked in public practice accounting, corporate accounting, business development, management and financial reporting. Lauren has managed and led successful finance teams across various organisations and industries including eCommerce, SaaS and property development. Lauren was a finalist at the 2021 Women In Finance Awards, she is a member of the Virtual CFO Association and the Institute of Chartered Accountants.
Financial Information
For further information please see Section 2.11 of the Offer Document.
Investor Rewards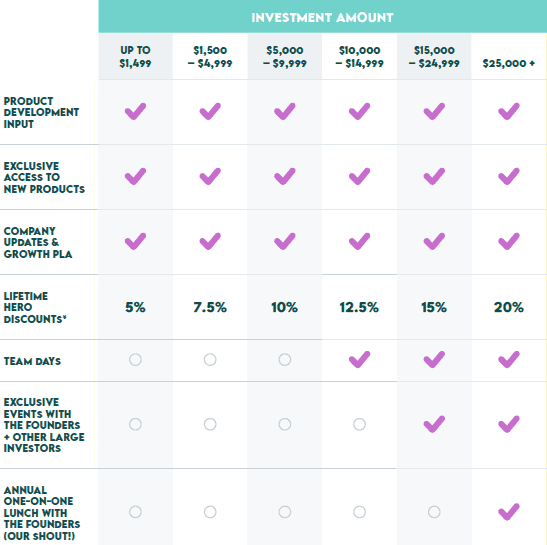 Key Risks
For further information please see Section 2.13 of the Offer Document.
Supply Chain Risk
Hero Packaging relies on third-party contract manufacturers and distribution warehouses, especially when supplying to our international customers. With current global supply chain and delivery constraints, this may hinder our expansion plan to scale operations in the North American markets in the coming months. 
Likewise, Hero may not be able to receive stock from overseas Chinese suppliers to Australia in the event of a trade war, conflict in the Pacific or other unforeseen events. This may result in significant delays or cause certain products to go out of stock, potentially impacting Hero's ability to grow revenue as expected.
Competition Risk
Hero prides itself on delivering an end-to-end platform for eco-conscious e-commerce businesses to meet all their sustainable packaging needs. This platform and the community that has been built around it differentiates Hero from similar competitors. 
Whilst Hero is the market leader in Australia, if competitors start to erode Hero's market share, this will impact Hero's revenues, growth prospects and customer retention rates.
Funding Risk
Hero Packaging is looking to use the funds of this capital raise to scale operations in the US and Canadian markets. Whilst the company has been cash flow positive and achieved a net profit in FY20-FY21, should the total amount not be raised it is likely that Hero will not be able to acquire customers at the same velocity as it would if it had raised the maximum funding amount.