Connecting Australians who love boating. Works like Airbnb or Camplify, only for boats.
Book My Boat
Register your interest for updates and exclusive first access to Book My Boat's investment offer.
What is Book My Boat?
Book My Boat is Australia's first fully automated, comprehensively insured, peer-to-peer recreational boat hire marketplace (www.bookmyboat.com.au). Through the use of its cross platform technology, Book My Boat is revolutionising boating in Australia by helping owners reduce the costs associated with boat ownership, whilst providing unprecedented access to the boating lifestyle for non boat owners, making boating more accessible for all Australians. Think Airbnb, think Camplify, think Car Next Door, now think Book My Boat.
Book My Boat provides an opportunity for boat owners to hire their boats to others for recreational use. The market fundamentals are compelling. There are over 2.5 million boat licence holders in Australia compared to 915,000 registered boats. Over 90% of recreational boats are under 8m in length which aligns directly to Book My Boats target market due to their suitability for self drive boat hire. An under-utilisation rate of 90% translates into 308 million days of idle boating capacity that Book My Boat will take advantage of through the use of its business model. 
Addressing a gap in the market, Book My Boat has created a marketplace to handle all the elements of showcasing listings, ordering, payments, insurance and legal compliance, making it easy for both parties to reliably transact. The company generates revenue by taking a commission (26%) on each transaction and assisting boat owners with their vessel registration needs. Moving forward, Book My Boat intends to increase its revenue streams leveraging from the online marketplaces' activities and introducing a range of product enhancements including premium memberships, subscription models, hosted listings and skippered cruises. The marketplace is currently a device compatible website, with an app in development for the future.
How Book My Boat Works
Renting is as simple as 1,2,3.
The platform is compatible across all devices.
The platform provides benefits to both owners and renters.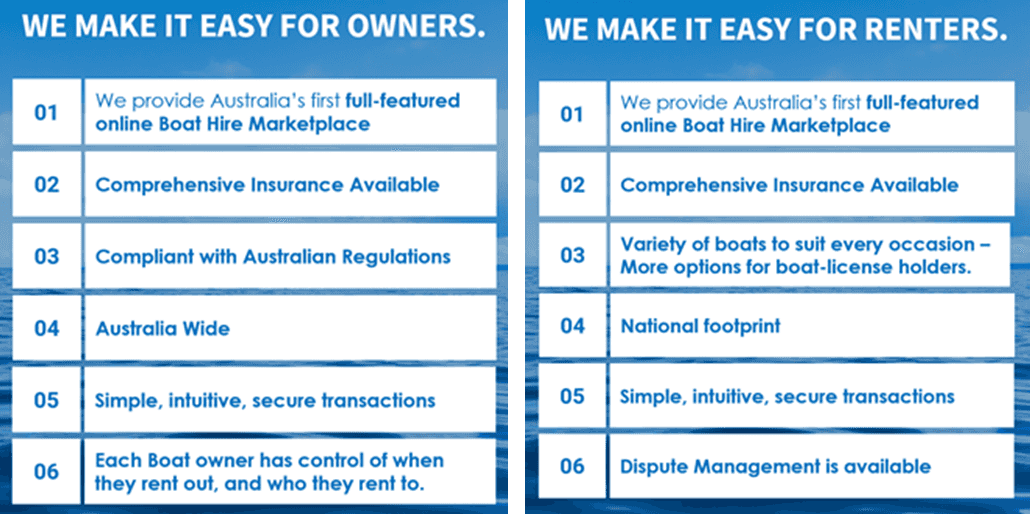 "After listing our Lilypad Floating Villa on multiple peer to peer platforms, I found the Book My Boat platform the simpliest to use. The entire process was intuitive and clear which made creating my listing a breeze."
Investment Highlights
Alignment with Disruptive Share Economy Models

The boating industry is prime for share-economy disruption, including high recreational boat ownership costs, low asset utilisation, and a limited supply and variety to service the increasing customer demand. Book My Boat aims to be like Car Next Door, Airbnb or Camplify, only for recreational boating.

Book My Boat has created an income stream for boat owners that they've never had before and an increase in accessible boating experiences for their customers.

First Mover Advantage, with High Regulatory Barriers to Entry

The maritime and boating industry in Australia is highly regulated and globally regarded as one of the safest in the world.  The need for vessel registration, insurance and boat licence requirements poses a high technical hurdle for new entrants and overseas competitors. The Book My Boat business model was developed through a consultative and constructive approach with the state and federal Australian maritime authorities and is widely regarded as best-practice in the industry.

Currently Operating and Ready to Scale

Since its soft launch in August 2019,  Book My Boat has experienced strong organic growth with minimal marketing spend. As of July 2021, Book My Boat databases contained over 210 boat owners and 1,100 rental customers, with transaction value of $150k to date. Boat owners are seeing high rates of repeat customers.

Large and Untapped Market Opportunity

The Australian marine industry is valued at $8.0 billion, and consists of 2.5m boat licence holders. Unfortunately, over 60% of these boat licence holders don't own or have regular access and opportunity to use a boat. Of the 915,000 recreational boats registered in Australia, 90% of these boats are under 8m in length which has been identified as the ideal target market due to the vessel's suitability for hire and self drive experiences.

With vessel utilisation reported to be as low as 10% and boat owner usage estimated to be on average just 28 days per year, there is a significant opportunity to provide new income opportunities for boat owners and accessibility for licensed customers with over 308 million boating idle days.

Supported by a Boom in Domestic Tourism

Over the last 12 months, Australians have increasingly shifted toward exploration and enjoyment of their local environment through boating, fishing and water-sports - activities that drive further participation in the boat rental market. In 2020, boat sales and tourism represented 46% of the $8.0 billion marine industry which presents great opportunities for Book My Boat and its business model.

Experienced Management Team and Advisors

Led by a passionate team including maritime professionals and industry leaders, Book My Boat is poised to take advantage of the opportunity to scale its exciting and transformative business model. The small team has experience in key disciplines such as commercial maritime transport/tourism management, national boat hire franchise operations, and management and mentoring of technology business start-up incubators.

Strong Turnover Potential

Theoretical turnover based on boat owner participation is very encouraging. Using a conservative average daily hire rate of $395 on just a single boat hire per month, 1% boat owner participation (8,890 boats) would, in theory, result in an annual turnover of $42 million.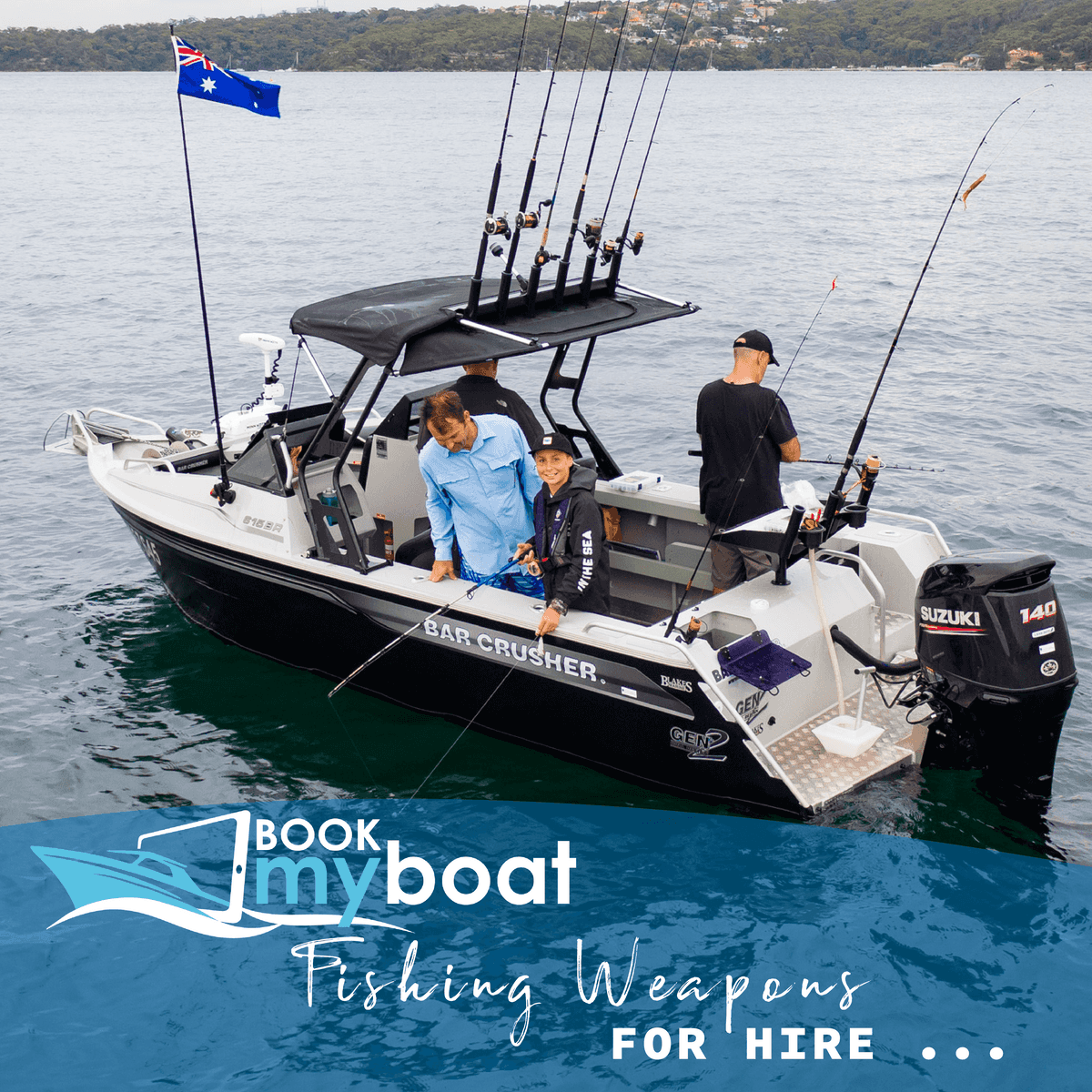 Market Opportunity
By applying a share economy model to the boat hire market, Book My Boat has tapped into an exciting market opportunity. Moving forward, they expect to benefit from the boom in domestic tourism and significant expansion of the addressable boat-hire market due to the lower cost and greater accessibility provided by their model.
Boat hire is a perfect fit for the share economy
Boat ownership is very expensive. Yet, despite high upfront and ongoing costs, utilisation rates are incredibly low, with the National Marine Manufacturers Association (NMMA) estimating that owners use their boat just 28 days per year on average.  In addition, many licence holders do not own a boat, with roughly 2.5 times boat licences for each boat in Australia. Collectively, these factors reveal an overlap of high ownership costs and latent demand, best served by a share economy model.
Current alternatives unfit for purpose
Share economy markets are differentiated by key drivers such as legislation and regulations, market size, existing industry stakeholders and their unique operational requirements. Existing attempts of peer-to-peer models for recreational boat hire aren't fit for this purpose and largely fail to address the transactional and regulatory challenges of the Australian market. 
For example, Classified Advertising Platforms such as Gumtree don't provide the necessary degree of verification for boat seaworthiness or renter qualifications, nor do they provide for insurance to be applied. Similarly, international competitors such as Get My Boat are optimised for conventional boat charter agreements, but do not support compliance in peer-to-peer hire. These non compliant companies are actively pursued by Australian regulators and prosecuted for their non-compliance.
Boom in domestic tourism providing a tailwind for boat hire
Over the last 12 months, COVID restrictions have re-directed many international outbound travellers to domestic tourism, with their increased spending providing a tailwind for boat hires. Moving forward, it is expected that Australians will increasingly consider activities in their own backyard, for which the boat hire market will continue to be a clear beneficiary. Book My Boat is ideally positioned to benefit from this trend, as their model offers the greatest value proposition to owners and renters in a compliant format. 
In 2020, at the height of the COVID pandemic, the marine industry experienced significant growth. New and used boat sales rose to represent 32% of the industry whilst tourism was recognised as making up 14% of the overall market. There were over 10,000 new vessel registrations recorded plus countless non-powered watercraft purchased.
Why Equity Crowdfunding?
Boating and enjoying the water is a big part of life for many Australians, yet the majority of boat licence holders don't actually own a boat. 
Book My Boat is on a mission to make boating more accessible and sustainable, bringing down the traditional barriers which put boating out of reach for many ordinary Aussies. For this reason, we saw Equitise as a natural fundraising partner, given their mission of making an investment in early stage companies possible, allowing us to include the community of avid boaters to share in our journey 
Funds from this raise will be used to accelerate growth/scale initiatives. Stretch funding will allow us to initiate further product developments to meet the growing needs of our customers and create additional revenue streams using the marketplace technology and consumer traffic.
Australian Corporations Regulations - Warning Statement About Equity Crowdfunding
Crowd-sourced funding is risky. Issuers using this facility include new or rapidly growing ventures. Investment in these types of ventures is speculative and carries high risks.
You may lose your entire investment, and you should be in a position to bear this risk without undue hardship. Even if the company is successful, the value of your investment and any return on the investment could be reduced if the company issues more shares.
Your investment is unlikely to be liquid. This means you are unlikely to be able to sell your shares quickly or at all if you need the money or decide that this investment is not right for you.
Even though you have remedies for misleading statements in the offer document or misconduct by the company, you may have difficulty recovering your money.
There are rules for handling your money. However, if your money is handled inappropriately or the person operating this platform on which this offer is published becomes insolvent, you may have difficulty recovering your money.
Ask questions, read all information given carefully, and seek independent financial advice before committing yourself to any investment.